Spain is such a wonderland to people who are interested in history since it is possible to find historical monuments in every corner of Spain. Furthermore, there are thousands of castles in this land. Each of them has its history since there were so many fights over crown, invasions and religious fights.
La Mota Castle
Location: Castile. See on Google Maps
Century: 11th
One of most impressive castles not only in Spain but also in the world for sure. Even though origins of this castle date back to 11th century, nowadays look is from the 15th century. Originally this castle was used as a fortress to protect a town in the Kingdom of Castile. It was mainly used to defend from Moors that were invading Spain back then. The castle also was used as a prison and some famous people were kept as prisoners there (for example, Italian nobleman Cesare Borgia and Spanish conquistador Hernando Pizarro). This castle is interesting because of this architectural variety since it was built by Christians but decorated by Muslims. The castle was abandoned for many centuries so in the end it was in a very bad condition so it had to be reconstructed. Nowadays it is a touristic place where you can even have a guided tour.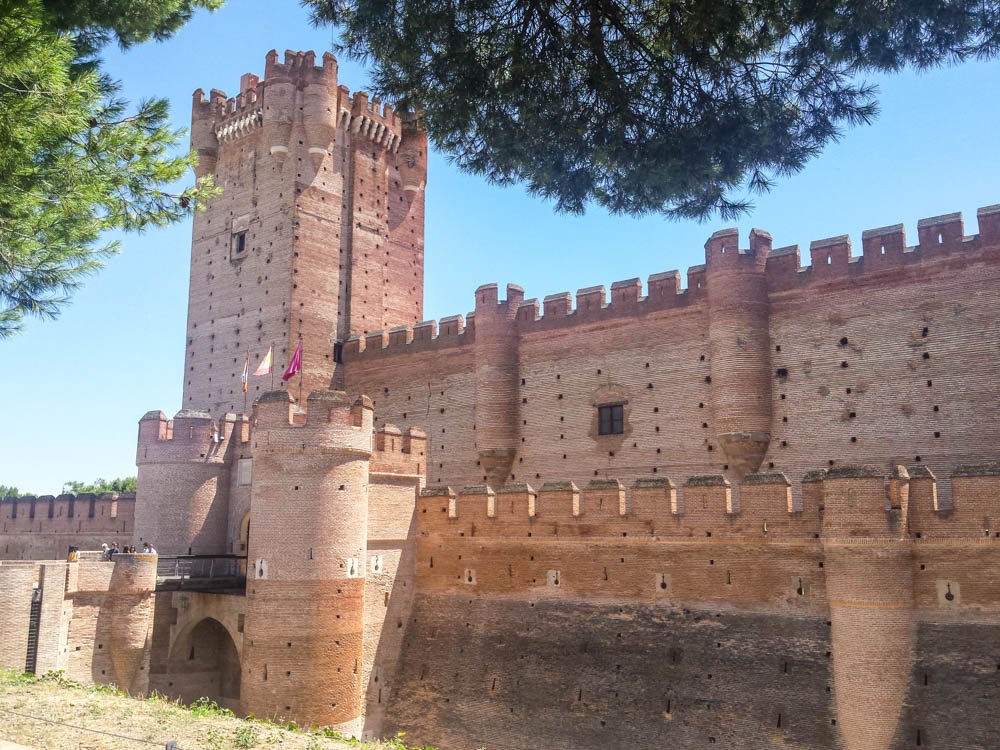 Coca Castle
Location: Castile-Leon. See on Google Maps
Century: 15th
This is a magnificent castle that is located in between of 2 rivers that are Voltoya and Eresma. It was built by Don Alonso de Fonseca in 15th century and is a great example of Mudejar style. Even though this castle looks like a military one, it was primarily used as a residence by a man who loved luxury. Defenses of the castle were strengthened after the death of Don Alonso de Fonseca as it was done by his brother. Back then, it was common to use bricks to build castles and churches in the area so this castle is not an exception. Nowadays this castle is used as a school to foresters but is accessible to tourists most of the time.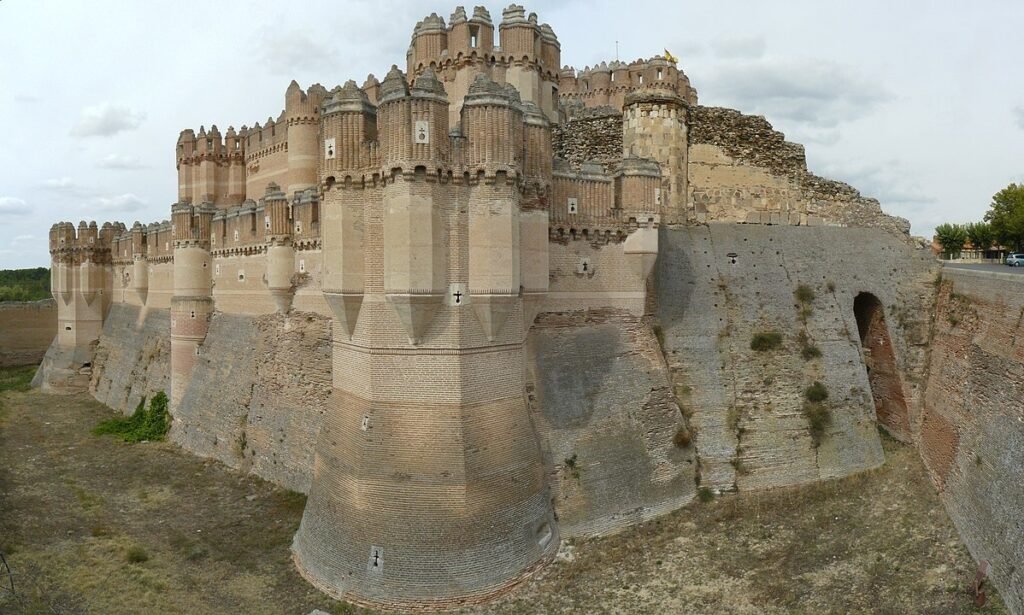 Cuéllar Castle
Location: Castile-Leon. See on Google maps
Century: 11th
This castle is located in a small town called Cuellar and is the highest part of the town. It was built in the 11th century and these days it consists of different architectural styles that come from 13th to 18th centuries which are mainly Gothic and Renaissance. This castle was home to Alvaro de Luna and was later used by other Dukes of Alburquerque for centuries until it was decided they wanted to live close to the court and moved to Madrid. After that this castle became a holiday residence and was used mainly for leisure. These days this castle is a public secondary education centre and is open for tourists.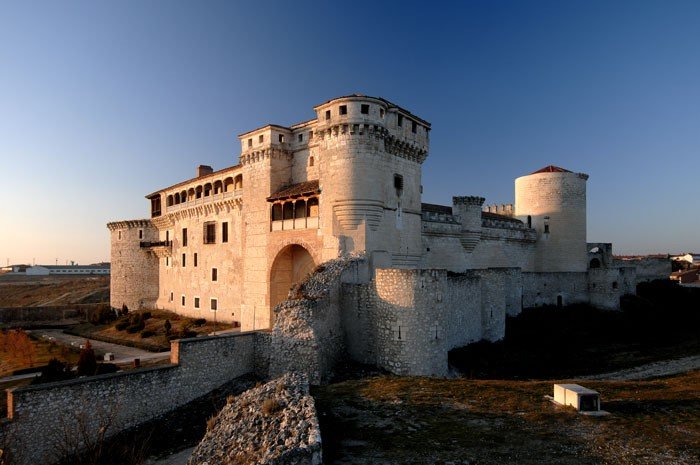 Los Templarios Castle
Location: León. See on Google Maps
Century: 12th
It was built by templars (knights of Western Christian military order) as a hill-fort when the city was donated to the Templar order by Ferdinand II of León (the king of León and Galicia). It was done because templars used to protect pilgrims on their road. Even though their order was disbanded and their properties were confiscated, the castle later had other inhabitands so this Gothic style castle still stands there. Tourists are free to visit this place.
Segovia Castle
Location: Segovia. See on Google Maps
Century: 12th
It is definitely one of the most beautiful castles in the world and its fairy-tale like look attracts many people. Furthermore, there are rumours that Walt Disney World was inspired by this castle as well. This castle is located on a cliff in the old city of Segovia. Originally it was a fortress, but was also used as a royal palace (kings and queens loved this place) and even as a prison (even though it was common to keep prisoners in the castles). It is said that this castle was built right after Christians reconquered the town so it has mainly Spanish architecture. Although this castle was abandoned after the capital was moved to Madrid, these days this castle is one of the most famous spots for tourists in Spain so its glory remain.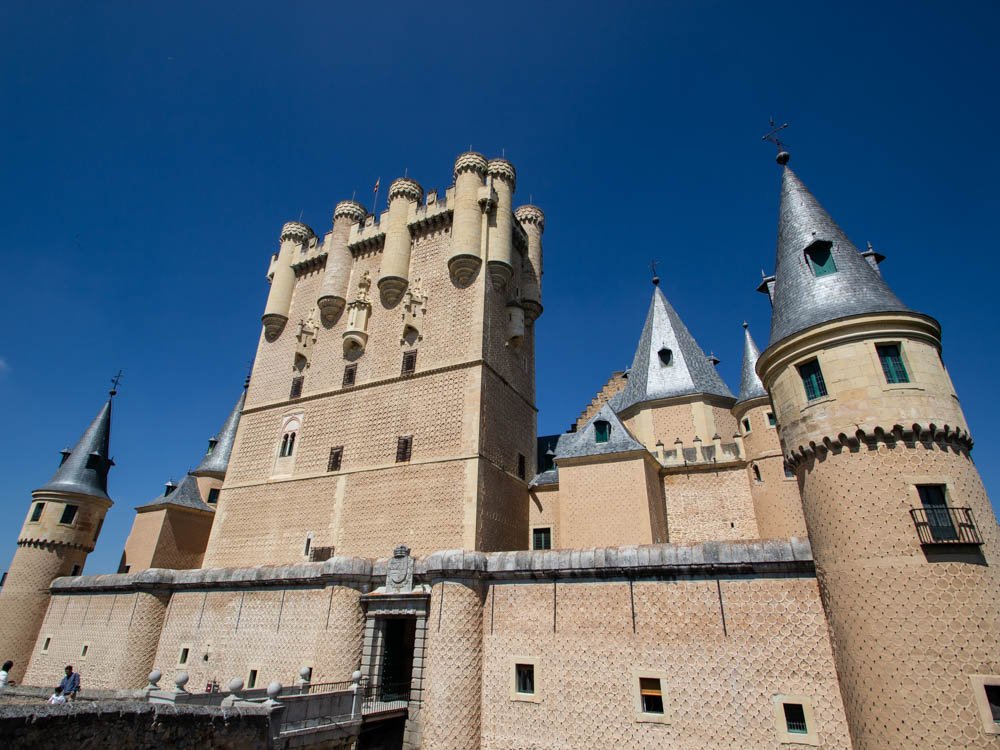 👉 More things to see in Segovia
Butrón Castle
Location: Basque Country. See on Google Maps
Century: 13th
It is considered to be the the largest medieval castle in the world. It was built by Butron family in the Middle Ages. Later it was the object of fighting among noble families for many centuries and it was abandoned in 16th century. It was restored in 19th century, adding some Gothic Bavarian style . Opening it for public was unsuccessful so later it was closed to visitors.
Sigüenza Castle
Location: Guadalajara. See on Google Maps
Century: 12th
The original castle was built in the 5th century by Visigoths but later it was rebuilt by the Moors in the 12th century. It was in ruins and the castle seemed to be hopeless but it was restored by Ministry of Tourism and now it is open as a Parador, a 4 stars hotel
👉More things to do in the Guadalajara province